The Skilsø 35 fly is a light and airy family yacht, with clean, open lines in design. Perfect for a unique experience.
Design Viknes Båt og
Length 10,60m
Width 3,52m
Sleeping places 2 + 2 + 1 pers
Engine Yanmar 8LV 370 370pk
Fuel Diesel
Top speed Unknown
Weight 6450kg
Ultimate comfort
All facets are present.
To provide the modern water sports enthusiast with all the comforts, all facets are present, such as a sliding door to the gangway (fully opening), 5 fixed berths, all on one level (kitchen, lounge, cockpit), a special door to the bathing platform, a light interior etc.
Skilsø 35 fly

With comfort in mind
For example, the large glass and electrically operated panoramic skylight in the saloon and the electrically operated canopy above the cockpit are standard features. This is just a selection of all the features of this new flagship.
In addition to all these ingredients mentioned above, the Scandinavian yard also shows with this design that it is not only able to build very solid and reliable ships, but is also able to put a mega modern design on the market.
Skilsø 35 fly

Deck lay-out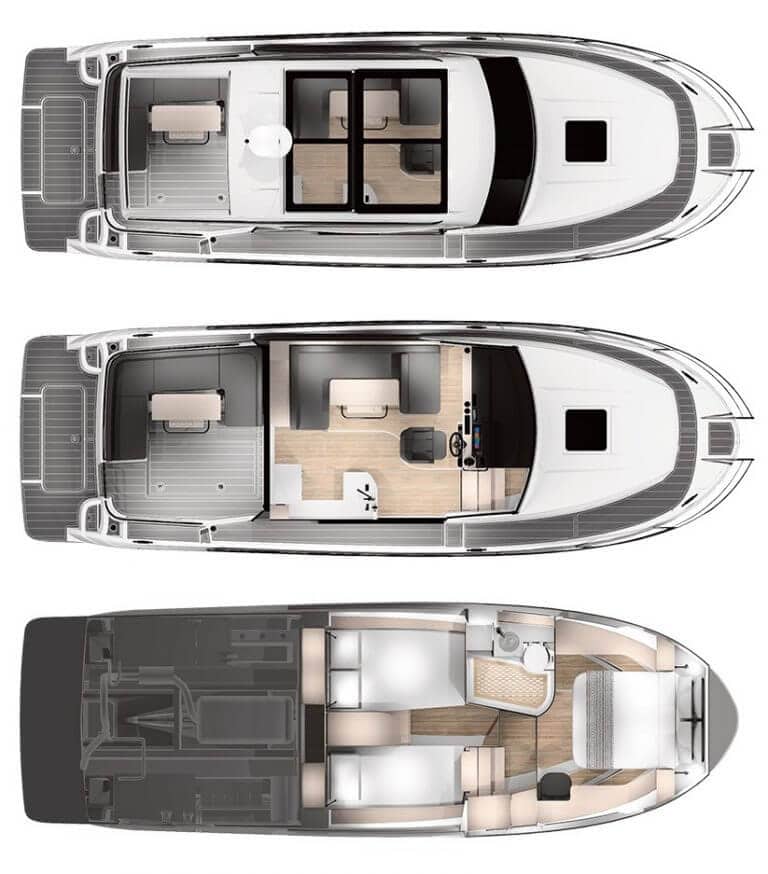 Skilsø 35 fly

Specifications
Length 10,60m
Aft deck length Unknown
Width 3,52m
Width aft deck Unknown
Sleeping places 2 + 2 + 1 pers
Design Viknes Båt og
Weight 6450kg
Top speed Unknown
Diesel fuel tank capacity 350 + 350 liter
Cold water tank capacity 280 liter
Hot water tank capacity 40 liter
Tank content septic 140 liter
Hull type Semi-planing with keel
Fuel Diesel
Engine Single + Straight Shaft, values ​​may vary depending on equipment and modifications.